Monday, May 24th, 2010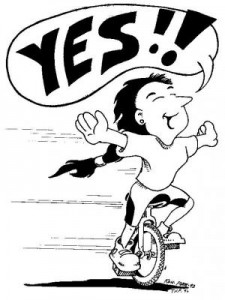 Yes!! Fluidinfo is finally funded. Getting there took a while, and wasn't easy. In fact, it was the most difficult thing I've ever done. Below are a few loosely related comments on how it all went down. I hope this will be of interest to people who are specifically interested in the progress of Fluidinfo, and also to other entrepreneurs. I've been waiting years to write it. Predictably, now that I'm in a position to do so, I don't really have time to do a decent job.
There was a lot of rejection along the way. I blogged about expecting and embracing startup rejection in Nov 2008. We had to ignore all that, and take heart from the strong support of a few people. More on them later.
We were even called "unfundable" (and "world-changing") in a generous article by Robert Scoble, who is a very careful listener and much smarter than people seem to realize. I was of course determined to change that.
Tim O'Reilly uttered the most memorable fund-raising related sentence along the way: "This could take over the world…. but I don't see how we could fund you." Argh! Best, clearest, and most useful advice came from Jeff Bezos who simply said "Never give up". Most haunting startup article: Avoiding the Cargo Cult by Roman Stanek. Most inspiring and favorite other entrepreneur met along the way: Jason Calacanis.
Several times we could have been funded if I'd accepted very low valuations. I said no to deals that didn't feel right. I said no, and we pushed on to a release living on fumes, when people told me Fluidinfo was just ideas – as if the years of coding counted for nothing. I even said no to a couple of informal offers to acquire Fluidinfo.
Several times we could have been funded if we'd agreed to just build some kind of application, instead of insisting on working on Fluidinfo as a general storage architecture. I was never willing to give up or even relegate the importance and value of getting the right architecture in place. I think many startups have powerful general ideas but get diverted along the way into building something more specific. They have the intention of getting back to the more general and broadly applicable vision, but they never do. There are many reasons why that happens, among them the fact that once low-level engineering (programming) decisions are baked in, they are very hard to revisit.
So you could say I wasn't willing to compromise on the vision – to get funded earlier in order to do less. And I felt compelled to push back on the elevator pitch, a posting through which I met Andy Weissman. I don't think entrepreneurs should obediently infantilize their grand visions just so someone who's probably not going to fund you can perhaps understand what you're doing. Sure, if you have a compact idea that you can package up into a tiny pitch, go for it. If after trying to do that, you don't, go find some potential investors with the patience to listen to you. The Betaworks guys told me after we'd first met that they'd blocked off 3 hours to talk to me – they knew it might take some time to see the scope of what we were attempting, to ask about it and consider it, to let it sink in, to hear why it might work, etc. (It didn't take 3 hours, BTW, but they were prepared.)
I spent a lot of time pondering the link between obviousness, the creation of value, and passion. I often try to get people to read that article.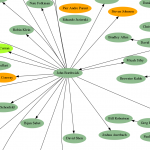 I've been introduced to many people along the way. A couple of years ago, in order to avoid real work, I started drawing a graph of the introductions I could remember. I filled my entire 3 meter whiteboard. So I wrote a small program to generate input for Graphviz and fed it all the information. You can see the result here. The colors are for people I've only talked to on the phone (light green), only emailed (orange), or was introduced to but never got a reply back from (yellow). All the rest (darker green) I met in person. I had to force myself to meet people, at first just telling myself it was part of my job and that if I didn't do it Fluidinfo would simply cease to exist at some point, and in the end actually coming to enjoy it.
If you know your way around the seed and venture world, you'll recognize many names in that graph. You can infer that they all – one way or another – found a way to say no, with the exception of Esther Dyson (who is a saint) and the investors who have just funded us. Many never actually bothered to say no, and several simply stopped replying to email. (See also: Pond Scum.) As an entrepreneur without a lot of outside support, it's good to have things to keep you going. Planning to have the last laugh is sometimes all it takes. 🙂
Quality I most enjoyed running into while meeting all those people: intellectual generosity. One thing I learned to stop doing: taking other people's time and attention for granted.
The total money we spent on hardware over the last 4 years is $2000. That was one laptop, a couple of sticks of RAM, a USB memory, a couple of external hard drives, and a printer. The whole of Fluidinfo was written on two 15″ laptops, with no external monitors.
I can't stand entrepreneurial cliches. They drive me nuts. There are so many people out there pontificating about startups, funding, VCs and entrepreneurs. If you spend any amount of time in that world you're going to hear the same old tired cliches over and over and over. Standout exceptions: Chris Dixon, Scott Rafer, Nivi and Naval at Venture Hacks, and Paul Graham. Yes, there's a bunch of other good stuff out there too.
I made the mistake of talking to VCs too early (see the post on rejection mentioned above). I should have been talking to earlier stage funders, but I was so sure the VCs would find Fluidinfo irresistible, and I wanted a bigger amount of money, that I neglected to talk to the only people (with money) who could really appreciate what we were trying to build.
John Borthwick and Andy Weissman, the founders of Betaworks, are fantastic. Betaworks are changing early-stage financing in New York (and beyond). Look at the intro graph: John is very easy to find. Those are almost all introductions he was making long before they funded us. They invited me to speak at their monthly brown bag lunch. They've had us in their office for a couple of months this year, given us keys, let us come to their weekly company-wide meetings, taken me into confidence multiple times, let me be present when sensitive things were discussed, created opportunities, pulled the funding round together, been generous and accommodating on the terms of the deal, and more. Spending time with the other small startups in and around the Betaworks office has been great – there's a lot of very smart people there, and they're working hard (while having fun) building all sorts of things. John is very good at his job. Keep your eye on Betaworks.
And never give up 🙂