Friday, February 25th, 2011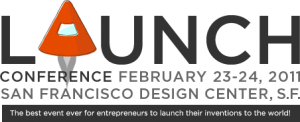 Wow…. Fluidinfo was just voted "the clear winner" as Top Technology Company out of 100 start-ups in the LaunchPad at the LAUNCH conference in San Francisco!
Thanks to all the judges, especially to Robert Scoble, Marshall Kirkpatrick, Brian Alvey, Naval Ravikant and Mark Pesce. Mark said "Fluidinfo is totally crazy, but it's the kind of crazy I love." 🙂
It's weird, because 3 weeks ago I told Jason Calacanis, who suggested in email that we enter, that I didn't think we should go up on stage at LAUNCH. We don't (yet) do UI, and start-up events are heavily oriented towards sexy UI and ideas that can be explained in a couple of minutes. We were so busy already, it seemed like a recipe to do something mediocre if we threw together a demo. Instead I asked if we could just hang out in the LaunchPad with the 99 other start-ups and talk to people passing by. Today the judges went through the LaunchPad and talked to all the start-ups. Several told me we should go up on stage to do a 3 minute presentation, so I thought "why not?", threw together some Keynote slides, opened some browser tabs (on the quick WeMet.At app written by Nicholas Tollervey in a few hours, and the increasingly great Fluidinfo Explorer (that link points at the ReadWriteWeb top-level namespace in Fluidinfo) written by Pier-Andre Parent, who we've never even met) and went for it.
The whole Fluidinfo team has been working really hard towards LAUNCH for the last 3 weeks. Everything at LAUNCH and recently announced on our blog has been built by all of us. It's nice to win a prize, because after being funded we decided to be quiet, keep our heads down, build and train a team, and not even try to get people to use Fluidinfo until 2011. In January we began our first outward-facing efforts, building and releasing quite a few writable APIs. It's still early days yet, and we have something very cool right around the corner.
Thanks to all the other great startups and the organizers at LAUNCH, especially Jason Calacanis, Tyler Crowley, and Jason Krute. Standing up for 20 hours and talking for about 30 was never so much fun!