Putting domain names onto data with Fluidinfo
February 23rd, 2011 by Terry Jones. Filed under Data, Essence, Writable APIs.
Internet domain names can be thought of as a mechanism for attaching trust and reputation to digital information. We do this in two major ways: (1) by using domain names in the URLs of web pages, and (2) by putting them in the sender's "From" address of email messages.
To give a concrete example, suppose you see some shoes for sale on a web page. If you look at the page URL and see the amazon.com or zappos.com domain name, trust and reputation knowledge springs instantly to mind. You know the quality is probably good, the price competitive, and that if the shoes are lost in shipping you'll be sent another pair for no charge. On the other hand, if you see ebay.com in the URL, a different matrix of trust and reputation knowledge will spring to mind. A similar thing happens if you get email from someone you've never met. If you see stanford.edu or forbes.com in the email "From" line, reputation information springs to mind.
Looked at in this way, domain names are small tokens that we send alongside other pieces of content such as web pages and emails. The domain name carries vital trust and reputation information. Recognition and trust in domain names is globally distributed, spread variously through the brains of most of the people on the planet, with its integrity guaranteed by DNS. Domain names make the internet useful. Without them, digital information online would be almost useless as we could not confidently trust any 3rd party data.
Question: given that we can attach domain names to web pages and email messages, can we find a way to attach them to other things?
Domain names on data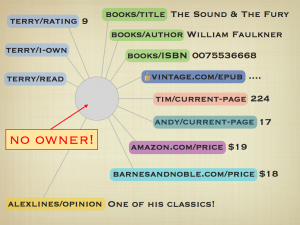 We're excited to announce that Fluidinfo now makes it possible to put domain names onto individual pieces of data.
To illustrate, the image on the right shows a fanciful example book object in Fluidinfo (large version). The tag names on the object are colored. You'll see that some of them contain domain names: amazon.com/price, barnesandnoble.com/price and vintage.com/epub. Tags in Fluidinfo can have values, as illustrated by the amazon.com/price tag whose value for this book is $19.
The combination of a Fluidinfo tag name containing a domain and an associated tag value is exactly like a URL containing a domain name and an associated HTML value (i.e., a web page) or an email message with a domain name in its From line.
Because Fluidinfo objects don't have owners (their tags do, though), any number of domain owners are free to put their information, branded with their domain name, onto any Fluidinfo object.
A killer combination: writable APIs with domain-branded data
Fluidinfo automatically provides a writable API for all its data. By allowing for domain names on data, domain holders who want to publish information about their products can now do so with an API that has three major advantages:
Your data is branded with your domain name.
Your data lives in a writable ecology of related data, collecting on the same Fluidinfo objects. This allows for search across data from different users and domains, put there by different applications. It allows for additional data of all kinds, for mashups, and for customization, personalization, and filtering.
Fluidinfo has a flexible permissions system at the level of its tags, so you maintain full control of your own data. You can make it public or private, or can allow or disallow access for specific others.
Because Fluidinfo objects are fine grained, composed simply of tags with values as in the image above, applications can fetch, search on, or combine specific pieces (or combinations) of data provided by different trusted sources with single requests. There is a general principle here: information becomes more useful and valuable when it is stored in context. This is illustrated vividly by Google, which collects web pages into one place to enable search, and by Wikipedia, which allows people to pool related information. Although these examples have very different models of trust and reputation, they both illustrate the underlying principle.
Getting your domain name in Fluidinfo
To start using your domain in Fluidinfo, first sign up, using your domain name as your user name. Our sign-up system will recognize that the username is a domain and will send you an email telling you how to prove that you control the domain. Once that's done, you can begin using Fluidinfo to upload information branded with your domain and to provide an API for others (or for your own company) to find your products or otherwise use the information you make available.
In other words, all Fluidinfo usernames that correspond to actual internet domains are automatically reserved for their owners. Besides preventing a chaotic land grab, this is how we can guarantee to people seeing information in Fluidinfo that the value of a Fluidinfo tag whose name includes a domain name can be trusted exactly as it would be if that domain appeared in a web page URL or email From address.
So there you have it… domain names on data. We're very excited to see where this will lead and we're actively building out some writable APIs with domain-branded data. You can too. Claim your domain name in Fluidinfo right now.